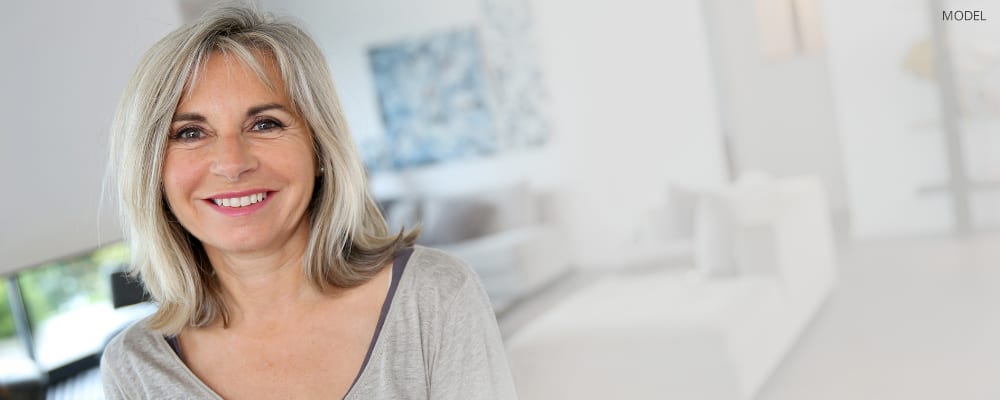 Corrective jaw surgery (orthognathic surgery) can address a broad range of functional and aesthetic issues. The specialists at Central Florida Oral, Facial and Periodontal Surgery have years of training and practice in these procedures, and we provide supportive and individualized care at every step. In addition to being a board-certified oral and maxillofacial surgeon, Dr. Jad Jaffal has received corrective jaw surgery himself, and he uses this experience to guide our practice's safe and comfortable approach.
Corrective jaw surgery patients in The Villages, FL often come to us through referral by their orthodontist. Other patients have lived for years with a misaligned bite that affects their chewing ability and facial harmony. Our surgeons offer the technical skill and knowledge patients need to achieve their goals through treatment.
Benefits of Corrective Jaw Surgery
Improve your smile and bite. Orthodontics can align your teeth but may not fix an overbite, under-bite, cross-bite or open bite if your jaw is underdeveloped or overdeveloped. Corrective jaw surgery can address these conditions, give you a more aesthetically pleasing smile, and make chewing more comfortable.
Prevent oral health problems. The misalignment of your jaws can damage your teeth, lead to gum disease, or cause dental crowding. Just like wisdom teeth removal, corrective jaw surgery can help patients in The Villages, FL avoid these health concerns.
Provide better facial harmony. Moving the jaws will also bring your facial features into alignment. This can provide a subtle but significant improvement in your appearance.
Help treat sleep apnea. Patients who have tried CPAP, weight loss, and jaw repositioning devices may have more success with a surgical approach.
Eliminate TMJ symptoms. The temporomandibular joint, or TMJ, can slip out of place and cause discomfort while speaking and chewing due to a poor jaw structure or misalignment of the teeth. In severe cases of TMJ disorder, corrective surgery may be required to restore the joint to a healthy level of functionality.
Recover from facial trauma. Injuries to the face can cause significant structural damage that leads to oral and overall health problems. Corrective jaw surgery can repair traumatic facial injuries, thereby restoring your overall health. If part of that trauma involved losing one or more teeth, bone grafting and dental implants can be used in conjunction with corrective surgery to fully rebuild the smile.
Is Corrective Jaw Surgery Right for You?
If braces alone won't fix the alignment of your teeth, your orthodontist may refer you to Central Florida Oral, Facial and Periodontal Surgery for an evaluation. Orthodontists can often identify candidates for treatment as early as age 14. Adults may also begin exploring corrective jaw surgery after recognizing that their jaws appear underdeveloped or overdeveloped.
Generally, treatment starts with a year of orthodontics to bring your teeth into the right position. Corrective jaw surgery comes afterward, once patients have stopped growing.
Your doctor will prepare for your surgery using our digital workflow platform. Our investment in this technology allows us to plan your procedure in intricate detail, providing you with greater safety, a faster recovery, and a more predictable outcome. All of the materials we will use will be biocompatible, and we will produce and use surgical guides tailored to your needs.
What Is the Recovery from Corrective Jaw Surgery Like?
Most of our patients in The Villages, FL have their procedure in a local hospital on an outpatient basis. We utilize general anesthesia so that patients can sleep through the experience, which normally takes 3-6 hours. Our doctors use specialized techniques to promote precision and minimize postoperative pain and swelling.
During your recovery from corrective jaw surgery, you may notice a change in your appearance and your bite. The treatment plan for some patients will also include moving the chin's position to accommodate the new alignment of the jaws.
Our practice takes steps to help patients manage pain following treatment, including our use of EXPAREL®, a long-lasting local anesthetic. EXPAREL numbs the site for up to three days, eliminating the worst stage of the recovery process.
Swelling and some bruising are normal after corrective jaw surgery. Patients may have a temporary splint in their mouth to guide their bite but are never routinely wired shut. You should be able to open and close your mouth, with rubber bands guiding your jaw into position. Expect to follow a soft, non-chew diet for six weeks.
During this time, you will have weekly visits with our practice. Occasional checkups follow for one year, and your orthodontist may make remaining adjustments along the way.
Pricing for Corrective Jaw Surgery in The Villages, FL
Most insurance policies cover corrective jaw surgery, which makes treatment a more affordable option. The procedure also helps prevent future damage and dental care, which can result from misaligned jaws.
Our practice works closely with patients to assist them with insurance pre-approval. If you have questions about this process, about treatment with our practice, or about corrective jaw surgery in general, we encourage you to get in touch.
Improve your comfort, the aesthetics of your smile, and your oral health with jaw surgery. Contact Central Florida Oral, Facial and Periodontal Surgery online or by phone in The Villages, FL at (352) 391-5550.