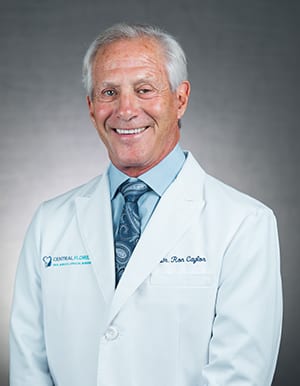 Dr. Ronald E. Caylor was born in Norfolk, Virginia, and lived in Alabama, Germany, Guam and Hawaii before attending Emory University in Atlanta, Georgia.  He completed his undergraduate studies at Emory and is a member of the Emory University Sports Hall of Fame.  He received his doctorate from the Medical College of Georgia where he was a member of the OKU honor society.  After completing his internship at the Queen's Medical Center in Honolulu, Hawaii, he returned to complete his residency in Oral & Maxillofacial Surgery at the Medical College of Georgia.
Dr. Caylor established a private practice in Oral and Maxillofacial Surgery in Ocala, Florida in 1979.  He is on staff at both Ocala Regional Medical Center and Munroe Regional Medical Center where he has served as the head of the Oral and Maxillofacial Surgery Department and as a member of the Executive Board.
Dr. Caylor practices full scope Oral and Maxillofacial Surgery with emphasis in dentoalveolar surgery, dental implants and associated bone grafting, oral pathology, maxillofacial trauma and orthognathic surgery.  Dr. Caylor is a diplomat of the American Board of Oral and Maxillofacial Surgeons and a Fellow of the American Association of Oral and Maxillofacial Surgeons.
To find out why patients in The Villages, FL prefer Dr. Caylor over other oral surgeons in the area, read our patient reviews. If you are ready to book your consultation, feel free to give us a call at (352) 391-5550.