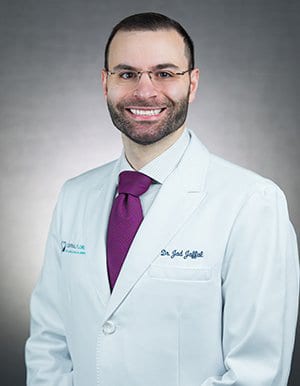 Dr. Jad Jaffal is a board-certified oral and maxillofacial surgeon, a Diplomate of the American Board of Oral and Maxillofacial Surgery. He is dedicated to improving the quality of life of every person in his care, providing safe, comfortable, gentle, and supportive treatment and assisting his patients in achieving their personal goals.
Having received orthognathic (jaw) surgery himself, Jad Jaffal understands the patient experience better than many. He routinely reflects on his own procedures to help patients in The Villages, FL area become comfortable with their treatment. In his opinion, successful outcomes depend on patients feeling completely confident about and in control of their care.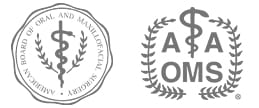 Dr. Jaffal's skill as an oral surgeon and his personable approach promotes this type of experience. He is a specialist in dental implant planning and placement and wisdom tooth extraction, with advanced skills in cosmetic, orthognathic, trauma, and reconstructive procedures.
He also holds professional memberships with the American Association of Oral and Maxillofacial Surgeons (AAOMS), the American Association for Dental Research, and the American Dental Association. Dr. Jaffal lectures nationally and internationally to dentists and surgeons on the topics of dental implants and bone grafting.
Technology and Technique
By utilizing advanced technology and skills, Dr. Jaffal minimizes surgical time, recovery time, and postoperative discomfort for patients in The Villages, FL.
Intraoral scanning, cone beam CT scanning, and 3D modeling allow Dr. Jaffal to create digital files of a patient's teeth and bone and to develop wax-up models before implant surgery. He is also able to produce surgical guides with an in-office, top-of-the-line 3D printer. This allows him to deliver minimally invasive, accurate, and predictable results while minimizing surgical time, postoperative pain, and discomfort.
Dr. Jaffal's training as an oral surgeon allows him to follow an aesthetic-driven approach while promoting durability and comfort. During his residency, he helped to develop a full-arch digital workflow for implants, and he trained general dentists in this workflow. He was also awarded first place for his digital workflow presentation at the Oral Reconstruction Foundation's Global Symposium.
Education
A Florida native, Dr. Jad Jaffal attended the University of Central Florida for his undergraduate studies. He double-majored in biotechnology and in molecular and microbiology, graduating with honors in both areas. He went on to earn his doctor of dental medicine degree (DMD) from the University of Florida's College of Dentistry.
En route to becoming an oral surgeon, Dr. Jaffal was recognized for his scholastic accomplishments on several occasions. This includes receiving the "Dental Student Award" from the American Association of Oral and Maxillofacial Surgeons.
Advanced Training
Dr. Jaffal completed his oral and maxillofacial surgery residency at MedStar Washington Hospital Center (WHC), one of the most prestigious programs in the country. His four years of additional training included service with the Johns Hopkins University Hospital, Children's National Medical Center, Washington DC VA Medical Center, and the National Institutes of Health. Dr. Jaffal served as chief resident during his final year in training.
As an oral surgery resident, Dr. Jaffal received extensive training in dentoalveolar, preprosthetic, and orthognathic surgery as well as trauma, tumor resection and reconstruction, and temporomandibular disorders. This included comprehensive training in general anesthesia and IV sedation techniques. WHC is known as one of the nation's elite dental implant programs, and Dr. Jaffal leverages the skill he developed from this experience to support patients in The Villages, FL.
About Jad
Giving back is an important aspect of Dr. Jaffal's career as an oral surgeon, and he values the opportunity to care for underserved patients. He has led and participated in several surgical and dental missions, focused on communities in the Philippines and Jamaica.
When not in practice, Dr. Jaffal loves to cook, travel, and experience new cultures and cuisines. He is also an avid scuba diver and has gone on excursions all over the world.
Get to know Dr. Jad Jaffal by scheduling an appointment at Central Florida Oral, Facial and Periodontal Surgery. Contact our office online or by phone in The Villages, FL at (352) 391-5550.