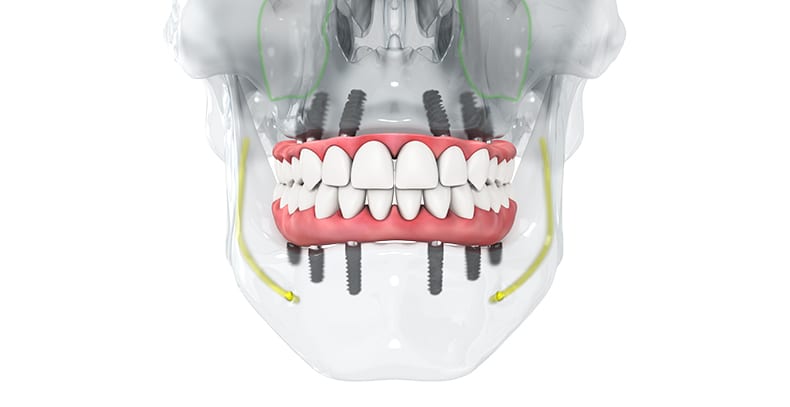 The "Teeth in a Day" treatment can be an excellent option if you have many missing or damaged teeth or if you want a more functional, comfortable solution than dentures. With this approach, you can have a new smile in a single day, even if you've experienced a lifetime of oral health problems. The Teeth in a Day appliance is fixed in place (does not come out) and supported by dental implants so that it feels more natural and won't slip out of place when you speak or chew.
Central Florida Oral & Facial Surgery supports patients with a range of advanced treatments in The Villages, FL. As a result, our team has extensive experience with the Teeth in a Day procedure, which is a routine procedure for us. Learn more about what to expect in our care.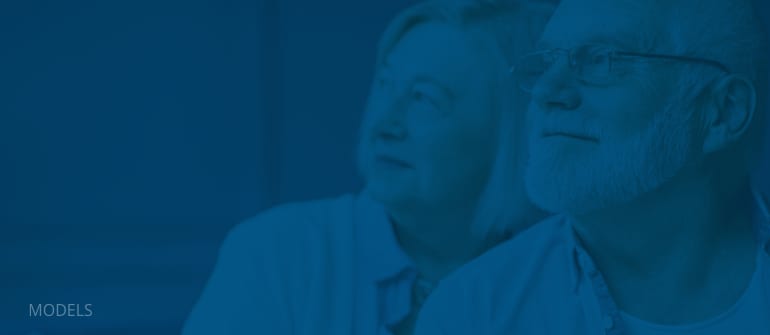 Get Teeth-In-A-Day Implants
Teeth-in-a-day dental implants can restore an entire mouthful of teeth quickly. This innovative alternative to dentures gives patients a permanent solution that provides full oral function and offers the most natural-looking smile on the market.
Benefits of Teeth in a Day
The Teeth in a Day treatment can renew your smile and bite completely. In the procedure, your doctor will extract your remaining teeth, place dental implants, and attach a full set of prosthetic teeth to these implants. This approach offers several benefits: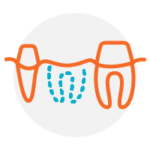 Restore Unrepairable or Missing Teeth Quickly
If you've lost most of your dentition or if you have teeth that are too damaged to keep, Teeth in a Day can give you back the form and function of your natural smile in a single day.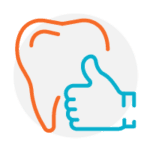 Get a Stronger Set of Teeth
Dental implants will anchor your new teeth so that they do not slide or shift. Teeth in a Day foster more confidence and better comfort as you speak and eat.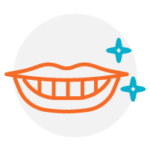 Prevent Discomfort and Aesthetic Problems
A person's body will typically resorb jaw bone in the area of a missing tooth. Therefore, patients in The Villages, FL who wear traditional dentures may develop gaps between their dentures and gums. Implants such as Teeth in a Day protect against bone resorption, and help maintain a more youthful appearance.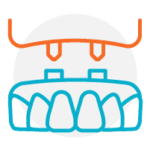 Maintain Your Smile More Easily
Dentures don't mimic normal dentition because they are independent from your jawbone, require removal at night, and aren't fixed in place. The Teeth in a Day prosthesis is meant to be a permanent solution that you brush like your natural teeth.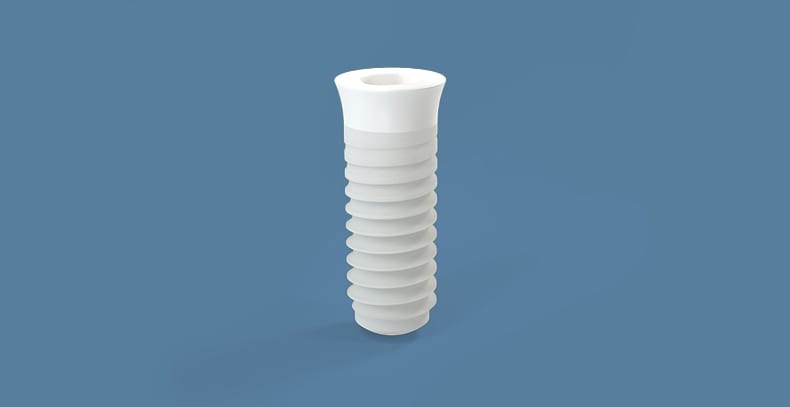 Is Teeth in a Day Right for You?
If you have many missing or damaged (non-restorable) teeth, you may be a good candidate for Teeth in a Day. You may also want to explore this approach if you're dissatisfied with wearing dentures. You may be a good candidate for Teeth in a Day, even if you've been told in the past that you don't have enough bone for dental implants.
A well-informed patient is key to the success of our procedures. As part of your treatment, you'll consult with our doctors so that you can learn about the process and make a confident decision about your care. We'll discuss your goals, your medical history, and the options available to you. You will be involved every step of the way.
We will use our advanced digital workflow system to plan every step in your treatment, and we'll work in close coordination with your general dentist. In a typical Teeth in a Day procedure, your doctor will:
Our workflow is minimally invasive, and more accurate. We will use custom made surgical guides to deliver the most accurate implant placement, decrease your procedure time, and reduce the length of your recovery. Most of the patients we see in The Villages, FL receive IV sedation for their surgery, which allows them to rest comfortably throughout treatment.
What Is the Recovery from Teeth in a Day Like?
At the end of your surgery, you can expect to have a complete and natural-looking set of teeth fixed in place. Most patients have minimal to no discomfort after the procedure, but there is still a recovery process to follow.
After your Teeth in a Day procedure, you'll follow up regularly with your doctor for postoperative care. After 4 months, implants will be integrated with the surrounding bone, and you will then visit your general dentist to get your final prosthesis.
Pricing for Teeth in a Day in The Villages, FL
The cost of Teeth in a Day treatment depends on factors such as the complexity of the procedure and whether patients require extensive bone grafting. Our practice is committed to each patient's safety, to being available when patients need us, and to performing procedures that reduce discomfort and recovery time following surgery.
The results of Teeth in a Day should last a lifetime. It helps to compare this approach to dentures, which usually become ill-fitting over time as the underlying bone structure changes. This can result in additional procedures and cost. The Teeth in a Day approach provides a lasting and attractive solution that avoids long-term expense. We invite you to schedule a visit to our practice to learn more about pricing, likely outcomes, and our approach to your care.
Schedule Your Teeth in a Day Consultation
If you have many missing or damaged teeth or are ready for a change from dentures, explore your options with Teeth in a Day in The Villages, FL. Contact Central Florida Oral & Facial Surgery online or by phone at (352) 391-5550. If you are not ready to schedule your consultation, visit our video learning center for more information.