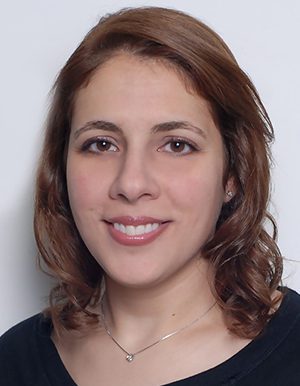 Dr. Rania Livada completed her dental degree with the grade "Excellent" at the University of Athens in Greece. She then moved to the US to pursue advanced education in Periodontics and Implant Dentistry. She holds dual certificates in Periodontics from the University of Alabama at Birmingham (UAB) and the Birmingham Veterans Affairs Medical Center. In addition, she has a Master's in Clinical Dentistry from UAB. She is very well trained in all aspects of non-surgical and surgical periodontal therapy, implant therapy as well as in IV conscious sedation. She recently completed a 2-year Fellowship in Implant Prosthodontics at the University of Maryland, where she was trained in the esthetic and complex rehabilitation of dental implants.
Dr. Livada has also previously served as full-time faculty in the Department of Periodontics at the University of Tennessee Health Science Center (UTHSC). During her tenure there, she was heavily involved in didactic and clinical teaching in both undergraduate and periodontal graduate programs and in research activity. Dr. Livada has received numerous awards including the "Outstanding Educator Award" from the American Academy of Periodontology, the "Junior Faculty Enrichment Award, the" Dean's Appreciation Award", "Bowyer Clinical Sciences Faculty Enrichment Award" and "Clinical Science Faculty Enrichment Award" from UTHSC. She has also received a scholarship from the American Academy of Periodontology Foundation. Recently she was a part -time instructor in the undergraduate periodontal clinic at the University of Maryland during her implant fellowship program.
Dr. Livada has previously worked for several years in private practices in both the West and Central Florida area where she enjoyed collaborating with other general dentists and specialists in providing the best care for her patients.
Dr. Livada is a Diplomate of the American Board of Periodontology, a Fellow of the International College of Oral Implantologists (ICOI) and a Master of the College of Sedation of the American Society of Dental Anesthesiology (ADSA). She is dedicated to providing safe, comfortable care to here patients.
Dr. Livada has authored several articles in peer-reviewed dental, periodontal, and dental hygiene journals and has presented her research in national meetings and symposiums and dental study clubs. She maintains memberships in several professional associations including the American Academy of Periodontology Academy of Osseointegration, American Board of Periodontology and American Society of Dental Anesthesiology. She currently serves on the Website Education Committee of the Academy of Osseointegration while she previously served on the Anesthesia Committee of the American Academy of Periodontology.
She is very excited to join our practice and loves helping and working with patients. In her free time, she enjoys painting, photography, learning new languages, playing music, and traveling.